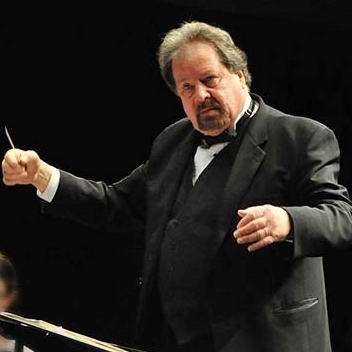 The Rick Goward Instrumental Music Endowed Scholarship
Rick Goward, longtime HFC music instructor and administrator, passed away on January 29 at the age of 70. Rick served HFC in many roles. Aside from his work teaching music, he was the founder of HFC's Big Band and other music ensembles. Goward dedicated nearly 40 years of his career to the College and continued serving our community well after retirement by conducting many concerts. The most notable was the President's Collage Concert, which he founded with fellow music maestro Kevin Dewey, Director of Choirs at HFC.
Passionate about music
Growing up in Lapeer County, baseball was Goward's passion. That changed in 7th grade. "The junior high band would leave a window open while they practiced. I would sit outside the window to listen to them play. One day I asked the band director if I could take lessons," recalled Goward, who had found a new passion.
A year later, Goward became first chair in the band's euphonium (baritone horn) section. After graduating from Lapeer West High School, Goward enrolled at Central Michigan University. There, he found that trombone players were able to participate in brass ensembles, the jazz band, and the orchestra. So he switched to trombone. Under the guidance of Music Professor Dennis L. Horton, Goward played in the Symphonic Wind Ensemble, the Symphony Orchestra, the Marching Band, the Trombone Ensemble, musicals, and many wind groups. Goward earned his bachelor's degree in music from CMU and his master's degree in music from the University of Michigan. He completed additional coursework in music at Michigan State University. In 1975, Goward began his teaching career at Trenton High School. One of his students was CMU Associate Director of Bands, Dr. James Batcheller. "I can say without exaggeration that Rick Goward changed my life," said Batcheller. "He believed in me and mentored me, as he did for all his students, in a way that was inspiring, compassionate, and fun. Those of us who teach music spend our careers in research and practice to codify methods that came to Rick naturally because of his rare combination of talent and intellect. He was among those rare individuals who are both larger than life and self-aware and humble. He was among the least selfish people I've known. I've spent my life and career trying to live up to his example."
Performing on The Tonight Show and with the Queen of Soul
Goward has performed with the Queen of Soul herself, Detroit's own Aretha Franklin. He also performed alongside Marie Osmond, the King Sisters, and Vanguard Brass in addition to working with area big bands and orchestras in Detroit and Los Angeles. He also appeared on The Tonight Show and The Late Show, playing the trombone. From 1998 to 2007, Goward served as the associate dean for the Fine Arts and Fitness division at HFC (a precursor to the School of Liberal Arts). He was a board member of the HFC Federation of Teachers Local 1650, representing retirees. He was also past vice president of the HFC Administrators Association Local 71. During retirement, he was an active member of the Dearborn Rotary Club. He was President-Elect for 2021-22.
Impact
Turning HFC's music program into an international success
Goward taught in Trenton for nearly seven years before joining the faculty of HFC (then Henry Ford Community College) in 1982. Early in his time at HFC, Goward quickly grew the music program, and it became internationally recognized. HFC currently boasts the biggest two-year college music program in Michigan.
In 1983, Goward formed the award-winning Big Band, HFC's premier music group. Big Band members have achieved international acclaim by performing at nearly every major jazz festival in the world, including the prestigious Montreux Jazz Festival in Switzerland. The Big Band performed twice at the renowned Carnegie Hall in New York City, as well as the Detroit International Jazz Festival, the Edinburgh Music Festival, the North Sea Jazz Festival in the Netherlands, Mardi Gras in New Orleans, and what is now Disneyland Paris. In 2011 and 2013, the Big Band appeared on PBS television. The Big Band also performed with music legends Maynard Ferguson and Karen Newman, the Count Basie Orchestra, and at four Presidential Inaugural celebrations in Washington D.C. The Wayne County Council for the Arts and the Wayne County Commission rewarded Goward and the Big Band the 2008 Wayne County Executive's Award for outstanding cultural contributions in southeast Michigan. In addition to founding the Big Band at the College, Goward also founded the Metropolitan Symphony Band, the Symphonic Wind Ensemble, and the Studio 110 Jazz Orchestra.
In honor of Rick and his love for music and teaching, his family has established this scholarship to support students studying instrumental music ensemble.